Chief Executive Officer
As Chief Executive Officer, Cathy Conway is committed to ensuring that all members of our community have access to quality care so they can live and die with dignity.  Her goal is to bring long-term vitality to the organization during this complex and changing time in healthcare.  She brings a wealth of experience to her role in leading the largest and most experienced nonprofit hospice in Santa Cruz County, with a workforce of 175 employees and nearly 300 active volunteers.
Cathy joined the organization in 2004 and most recently served as the Chief Mission Officer.  She began her career in the for-profit sector with Ziff-Davis Publishing.  During that time she began volunteering at a 15-bed residential hospice in San Francisco.  Inspired by her hospice volunteering, she left the corporate sector and entered the nonprofit sector. Cathy holds a Bachelor's degree in Communication, a Master's of Science in Nonprofit Management and has extensive experience serving the community.
Cathy is a member of the Health Improvement Partnership of Santa Cruz County, a coalition of public and private health care leaders dedicated to increasing access to health care and building stronger local health care systems.  She serves on the boards of the Pajaro Valley Chamber of Commerce and the Mount Madonna Institute, and is a member of the Dominican Hospital Women of Wellness Council, the United Way Women in Philanthropy committee and the Cabrillo College Women's Educational Success committee.   Cathy is a certified fundraising executive (CFRE) and a certified yoga teacher (RYT-500).  She enjoys teaching and practicing yoga and spending time outdoors, hiking with family.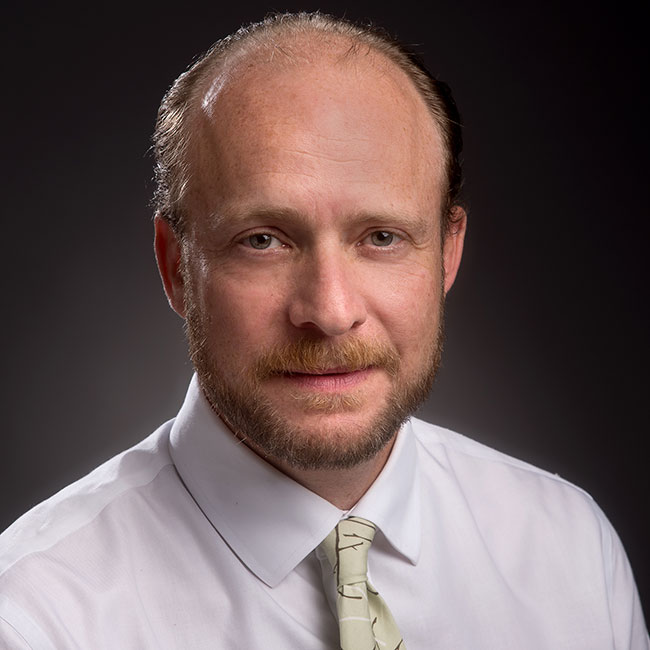 Chief Financial Officer
Adam has served as Chief Financial Officer since 2014 and is committed to bringing financial acumen to the organization so that we can continue to provide the highest quality of care while ensuring long term sustainability. Adam is responsible for Finance, Information Technology, and Facilities functions.  He came to the organization after 20 years at a variety of financial positions in organizations in Silicon Valley. At Hospice of Santa Cruz County, he has realized his longstanding desire to use his skills and experience to make a positive difference in the community.
Adam began his career as a CPA.  He holds a MBA, a master's degree in Accounting, and a bachelor's degree in History.  He lives in the Santa Cruz Mountains with his wife and their two children.  Adam was raised in Australia and England, and is an avid traveler.
Chief Medical Officer
As Chief Medical Officer, Dr. Segnitz oversees all aspects of medical practice at Hospice of Santa Cruz County.  He is board certified in Hospice and Palliative Care, Emergency Medicine and Family Medicine.  He has also served as an Urgent Care Physician for Palo Alto Medical Foundation – Sutter Health since 2007.  Dr. Segnitz  is a member of the American Association of Physician Specialists and American Academy of Family Physicians.
Dr. Segnitz is committed to providing exceptional end-of-life care to our community.  He has served as a Hospice of Santa Cruz physician since 2008 and holds the values of comfort, dignity, and patient and family choice. He received his medical degree from Oregon Health Sciences University and completed his residency at University of Washington in Seattle. Dr. Segnitz and his wife Lisa have three children and enjoy spending time outdoors surfing, swimming and hiking.
Chief Compliance Officer
Judi Humble leads Hospice of Santa Cruz County's compliance program, ensuring organizational compliance with federal, state and accrediting body regulations. She also oversees the organization's operations, its comprehensive compliance and quality assessment and performance improvement (QAPI) programs related to Hospice and Palliative Care, and Human Resources.
Judi joined the organization in 2003 seeking meaningful work within the not-for-profit field.  She believes that everyone is entitled to a dignified death with as much autonomy around end-of-life decision making as is possible.  Judi is certified in Healthcare Compliance (CHC), holds a BS degree in Business Administration and a MBA with a Healthcare Management concentration.  She enjoys time with family, traveling to national parks, nature, and cooking.
Layla Powell, RN, MSN
Chief Clinical Officer
Layla Powell overseas all clinical operations at Hospice of Santa Cruz County. She leads as a seasoned clinical leader and brings more than 12 years of management experience in healthcare, including acute care and hospice settings. Layla was most recently hospice administrator for Sutter Care at Home's hospice operations in San Mateo, where she directed operations with an average daily patient census of 140. She grew the number of patients served by more than 65 percent and improved quality of care scores significantly.
In addition to her hospice experience, Ms. Powell has served as palliative care director for Eden Medical Center and Mills-Peninsula Medical Center. She received her Master of Science degree in Nursing with a concentration in Case Management from Samuel Merritt University and a Bachelor of Arts degree in Psychology from Mills College.
Chief Mission Officer
Diane provides leadership for philanthropy, marketing, and business development deepening relationships in the community and securing the resources necessary to meet the needs of the community now and in the future. With a heart of gratitude and deep love of relationship building, Diane has over 20 years' experience in fund development and nonprofit leadership. She is inspired by patient stories, family experiences, and the dedication of our clinical teams.
Diane's community involvement includes serving on the board of Arts Council Santa Cruz County, and serving as alto sectional leader for the Cabrillo Symphonic Choir.  Diane holds an MBA in Organizational Development, and bachelor and master of music degrees. She is a member of Leadership Santa Cruz County Class 35. You will often find her connecting in the community, gardening, singing, or picking banjo on her front porch.
Senior Director of Operations
Karen serves as Sr. Director of Operations, leading the Clinical Administrative staff, overseeing supply and durable medical equipment management, including the fostering of relationships with our vendor partners. Additionally, she provides general operational oversight in the intersection of field and office staff practices and processes.
Karen graduated from California State University, Fullerton with a bachelor's degree in Business Administration, concentration in Management Information Systems, and has been with HSCC for over 20 years. She brings years of experience in organizational and team management with a focus on alignment, collaboration and promoting a culture of excellence within her team. Her favorite pastimes include international travel, flower arrangement and walks on the beach.
Senior Director of Human Resources
Kim is responsible for employee engagement, recruitment, compensation, benefit management, and employee development.  Kim has over 15 years of experience in Human Resources and joined the organization in 2009.  She brings a collaborative, team oriented style to her role and looks for opportunities to increase employee engagement while contributing to the overall growth and performance of the organization.
Kim graduated from University of California Santa Cruz with a degree in Psychology and received her HR Management Certificate through UC Extension.  Kim is grateful for the opportunity to work for a non-profit agency that provides a much needed service in the community she loves.  Outside of the office, Kim enjoys time with her new baby, her husband, and her dog and plays tennis whenever the opportunity arises.
Senior Director of Information Technology
Lisa serves as Senior Director of Information Technology and brings over 30 years of experience in Healthcare Information Technology and Project Management to the leadership team. She has held many leadership positions in various healthcare systems as well as serving as Executive Program Director at a medical software company.
Lisa is an innovator with a deep commitment to customer service. As a leader who thrives in process-driven environments, Lisa is able to go from concept to completion motivating colleagues all along the way.  Specializing in Healthcare Information Technology, Project and Program Management she is responsible for all technology strategy and functions for Hospice of Santa Cruz County and the California Hospice Network. When she is not busy solving the universe of IT you can find her walking on the beach, enjoying the company of friends, or reading a good book.